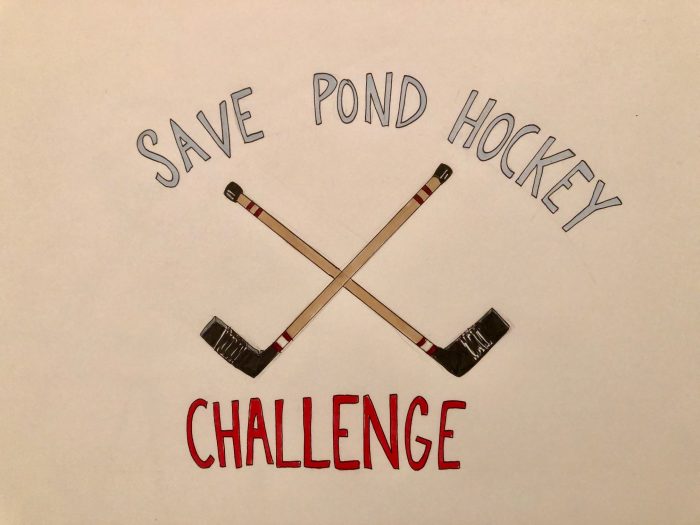 SUOMEKSI:
Tule mukaan pelaaman Save Pond Hockey Challenge -peliä! Maapallo lämpenee liian nopeasti, jos sen lämpeneminen jatkuu jäät sulaa ja ei löydy enää yhtään paikkaa jossa voisit pelata pipolätkää kavereiden tai perheesi kanssa.
Voit ansaita pisteitä, voittaa palkintoja ja samalla pelastaa maapallon hauskalla tavalla. Jokaiselta aukeamalta löydät hauskoja pelejä joita voit pelata ystävien ja perheen kanssa. Suoritettuasi tehtävän, piirrä tehtävän pisteitä vastaava kiekko maaliin. Yritä olla osumatta maalivahtiin. Tee maali ja ole mukana pelastamassa maapalloa! Voit suorittaa tehtäviä niin monta kertaa kuin haluat ja näin saavuttaa vielä enemmän pisteitä.
Save Pond Hockey Challenge -pelin lopuksi, laske yhteen kaikki tehdyt maalit ja merkkaat ne alla olevaan taulukkoon. Laskettuasi kokonaismaalimäärän voit ottaa kuvan tulossivusta ja lähettää sen meille osoitteeseen sphchallenge@savepondhockey.org
ENGLISH:
Hi! We hope you can help us! The planet is warming too fast! And if it keeps warming, our ice is going to melt and that means we will not have a place to play hockey with our friends and family! You can help by playing our game with your family!
You can score goals and win prizes to help us save the planet! And have fun doing it!!! On each page you will find lots of fun challenges for you and your family. When you complete a challenge, draw the matching puck in the net and don't hit the goalie. Score a goal and help Save the planet! You can repeat each challenge as many times as you like and score MORE goals!
At the end of the challenge, you add up your goals on each page to see how many total goals you scored (if it's tricky, you can ask a parent for help!). Once you have added up all your goals to the final scores page and answered the last questions you can take a photo and send it to us at sphchallenge@savepondhockey.org
Mukana? Kirjaa tiedot alle!
Participating? Put your information below so that we can send you reminders and your free participation prize!
Resurssit vanhemmille / Resources for Parents
Yleinen / General
Pelaa Ulkona / Playing Outside
Liikkuminen / Going Places
Ruoka ja Kokkaaminen / Food Time
Energia / Energy
Kulutus ja Kierrätys / Consumption and Recycling
Offsetting